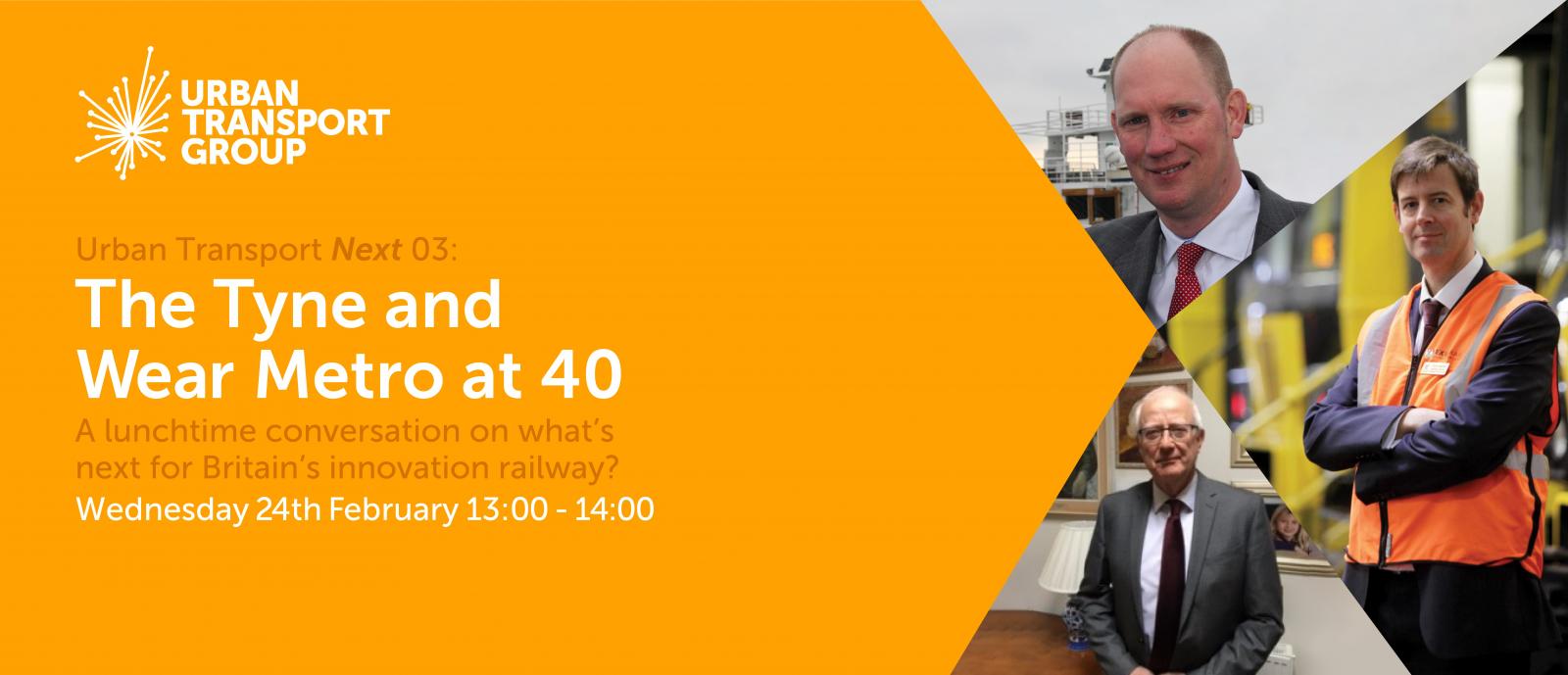 Urban Transport Next 03: The Tyne and Wear Metro at 40
This was the third of our Urban Transport Next events. In this episode, we celebrated the 40th anniversary of the Tyne and Wear Metro by delving into its past, present and future. The wide-ranging discussion took in the history of Metro, hearing how devolution was key in realising the initial vision and how the system has, and continues to be, a key part of the North East's identity. The conversation also focused on how Metro has responded to the COVID-19 crisis and what its future will look like post-pandemic, with its new fleet of trains and potential extensions to the network.     
Our guests were Tobyn Hughes, Managing Director, Transport North East and Director General of Nexus, and Huw Lewis, Customer Services Director at Nexus. They were interviewed by Mike Parker, the former Director General of Nexus.
You can listen again below...
You can also subscribe to the podcast on Podbean, Apple, Google or Spotify. 
Alternatively, you can watch the conversation on YouTube .
About the panel
Tobyn Hughes
Tobyn Hughes is the Managing Director of Transport North East, ensuring the development and delivery of an excellent transport system for the North East.
Tobyn is passionate about improving travel for people who live and work in North East England and has extensive knowledge of the commercial, operational and regulatory environments involved in rail, Metro and local bus services. He is also a keen advocate for helping more people to walk and cycle as part of their daily lives.
In his role Tobyn is the principal transport adviser to the North East Joint Transport Committee, which brings together the two Combined Authorities in North East England around a shared transport agenda.  The Committee is consulting on a new £6bn Transport Plan to move the region towards a green, healthy, dynamic and thriving transport system.
Tobyn is also Director General of Nexus, the body responsible for providing high quality integrated public transport services through the Tyne and Wear Metro system, Shields Ferry, bus, ticketing and information services.  He also plays a leading role in Transport for the North and the Urban Transport Group.
A Newcastle University graduate, he has over 25 years' experience working in aviation, bus and rail transport.
Huw Lewis
Huw Lewis is Customer Services Director for Nexus, the Tyne and Wear Passenger Transport Executive.  He leads on all aspects of customer experience, products and payments, marketing and communications for the Tyne and Wear Metro - one of Britain's busiest urban rail networks.  
Huw also leads delivery of all local-authority funded public transport for the cities of Newcastle, Sunderland and surrounding communities.  This includes the delivery of bus services, through contracts and partnerships with operators, and the 700-year-old Shields Ferry across the mouth of the Tyne.  
Huw's background is in corporate communications, having previously been a journalist and newspaper executive in Britain and globally.  
Mike Parker
Mike has worked most of his life in public transport and in the public sector with over 25 years at a senior level.  For 12 years he was Chief Executive of Nexus - the largest Passenger Transport Executive in the UK (in terms of staff).
His last two major roles - Nexus and Centro - involved regular contact with politicians at local and national level, working with/briefing Secretaries of State, government ministers, MPs, councillors, civil servants, etc.
His career started with London Transport where he had a number of roles in both operations and communications.  He was responsible for the launch of the Travelcard and the "Fares Fair" campaign promoting the major reduction in fares initiated by the Greater London Council.
He says Nexus' major achievement, of which he was most proud while he was there, was the extension of the Metro to Sunderland and South Hylton.