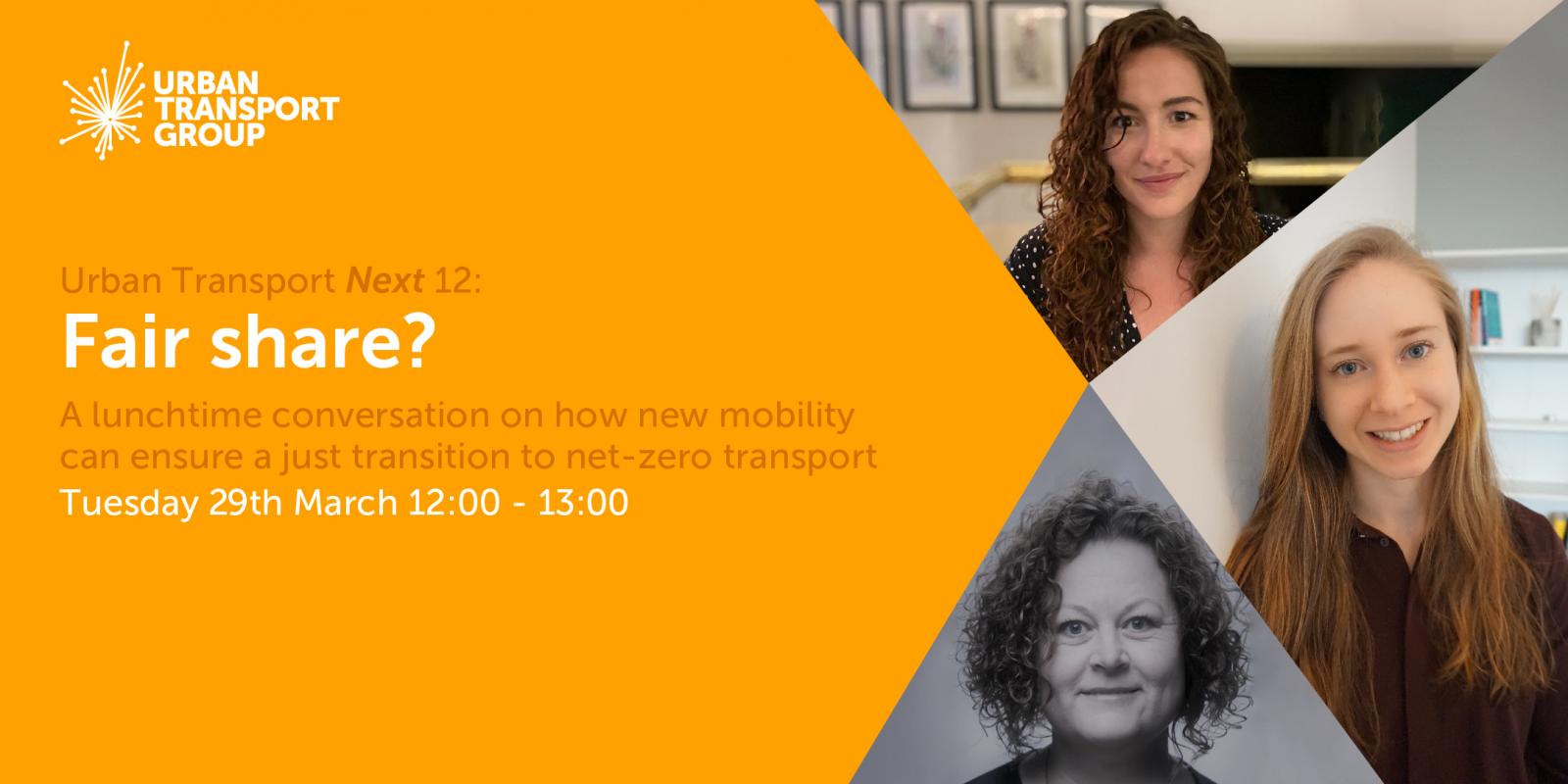 Urban Transport Next 12: Fair share?
In this episode, our panel discussed how new transport modes offer the potential to enhance transport networks and attract the new users necessary to transition to net-zero. Drawing from a new Urban Transport Group and Arup report, they talked about how to make transport available, accessible, affordable and acceptable, and how to move away from the 'reference man' when designing transport systems. Our guests were Karla Jakeman of Innovate UK and Natalie Gravett of Arup. They were interviewed by Rachael Murphy, Scotland Director at CoMoUK.
You can listen again below...
You can also subscribe to the podcast on Podbean, Apple, Google or Spotify.
Alternatively, you can watch the conversation on YouTube.
About the panel…
Karla Jakeman
Karla is the Innovation Lead for Connected Transport, part of the Land & Maritime Transport Team, at Innovate UK (UKRI). A thought leader working in a modal agnostic area covering all aspects from active travel to highways, geospatial solutions to intelligent transport systems, Karla focuses on supporting a variety of different types of organisations to work together to find innovative transport solutions. She is also the Vice-Chair of ITS(UK), a member of the Highways Sector Council and a lead stakeholder for the Transport Technology Forum. Prior to Innovate UK, she worked for 15 years at a large automotive company as a Design Quality Engineer.
Natalie Gravett
Natalie is a Transport Planner and Modeller at Arup working across a range of transport modes and geographies. Before joining Arup, Natalie studied a BSc in Geography at the University of Exeter, and a MSc in Environmental Management and Policy from Lund University in Sweden. Her environmental science background gives her the contextual knowledge and motivation to prioritise decarbonisation objectives and promote just transitions. Natalie has published work looking at the health benefits of active travel policies and continues to be interested in the wider benefits of transport schemes, and supporting evidence-based decision making.
Rachael Murphy
Rachael is Scotland Director at CoMoUK. She moved to Scotland ten years ago to study French and Hispanic Studies at the University of Aberdeen and worked for the Community Transport Association for three years, bringing amendments to the Transport Act, highlighting the role of community transport, and fostering key relationships with third sector, community and government bodies. She is a trustee of Lothian Community Transport Services and a founding board member of the Scottish Rural and Islands Transport Community, and sits on the board for Aberdeen University's Masters course: transport and intelligent mobility.