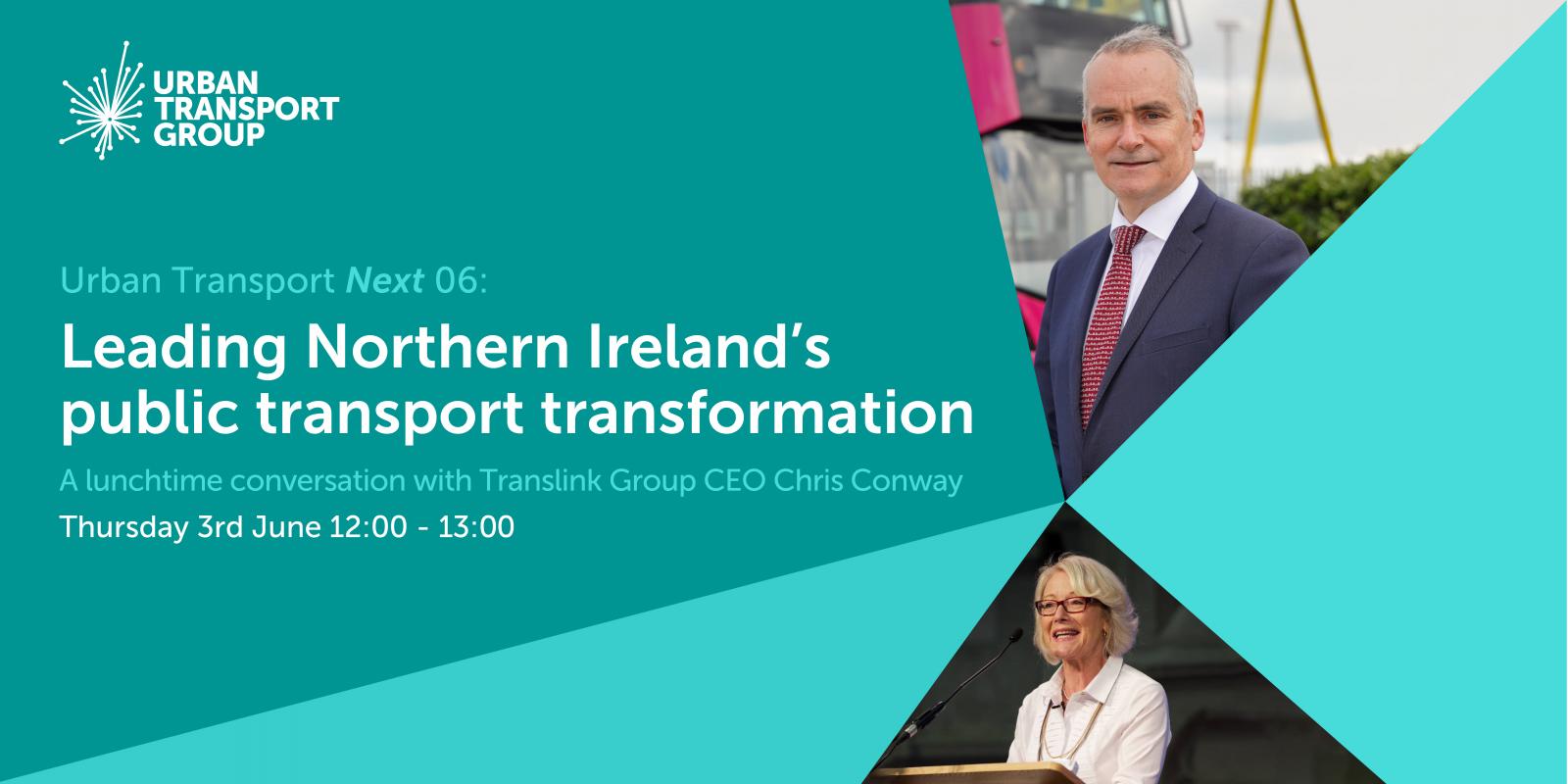 Urban Transport Next 06: Leading Northern Ireland's public transport transformation
This was the sixth of our Urban Transport Next events. In this episode, we explored what has been behind Northern Ireland's transformation in public transport which, pre-pandemic, saw record passenger numbers on the network and - uniquely among the four nations of the UK -  growth in bus use. The conversation touched on the success of the Glider Bus Rapid Transit system, the modernised rail network and what the future holds for public transport in the wake of COVID-19.
Our guest was Chris Conway, CEO of Translink Group (Northern Ireland's main public transport provider) who was interviewed by Wendy Austin MBE (Journalist, podcaster, presenter and moderator).
You can listen again below...
You can also subscribe to the podcast on Podbean, Apple, Google or Spotify.
Alternatively, you can watch the conversation on YouTube.
About the panel
Chris Conway
Chris Conway joined Translink as the Group Chief Executive in 2015. He has extensive international business experience and is a Chartered Company Director and a Fellow of the Institute of Directors. He is also a Fellow of the Institution of Civil Engineers and a member of the CBI NI council and Chair of Business in the Community NI advisory board.  
Over recent years, Translink has carried record passenger journeys through the delivery of a its 'Get on Board' strategic plan and vision to be the 'First Choice for Travel' in Northern Ireland. 
Key achievements include the introduction of zero emission hydrogen buses and the introduction of Glider in Belfast, delivery of a new Transport Hub in Derry~Londonderry alongside upgrades to the rail line, a new station opened in Portrush, work underway on the new Belfast Transport Hub and new Urby buses.   
Future plans include the roll out of new contactless ticketing, the introduction of new train carriages for more capacity,  enhancements to rail infrastructure, new station developments and the roll out of an exciting climate positive environmental strategy set to transform transport, delivering net zero emission public transport in NI by 2040 and incentivising more people to use sustainable travel options as part of NI's green recovery from COVID-19. 
Wendy Austin
Until her recent retirement in 2020, Wendy Austin had been the presenter of BBC Radio Ulster's Inside Business programme and former presenter of BBC Radio Ulster's current affairs programme Talkback. She currently a host and presenter in the business events circuit.  
One of Northern Ireland's best known journalists and broadcasters, in a career spanning more than 40 years she has worked in local and regional newspapers, commercial radio and for the BBC, both on radio and television, in Northern Ireland and nationwide. 
Wendy was awarded an MBE in the 2012 Queen's birthday honours list.