Smoothly does it – a day on Belfast's public transport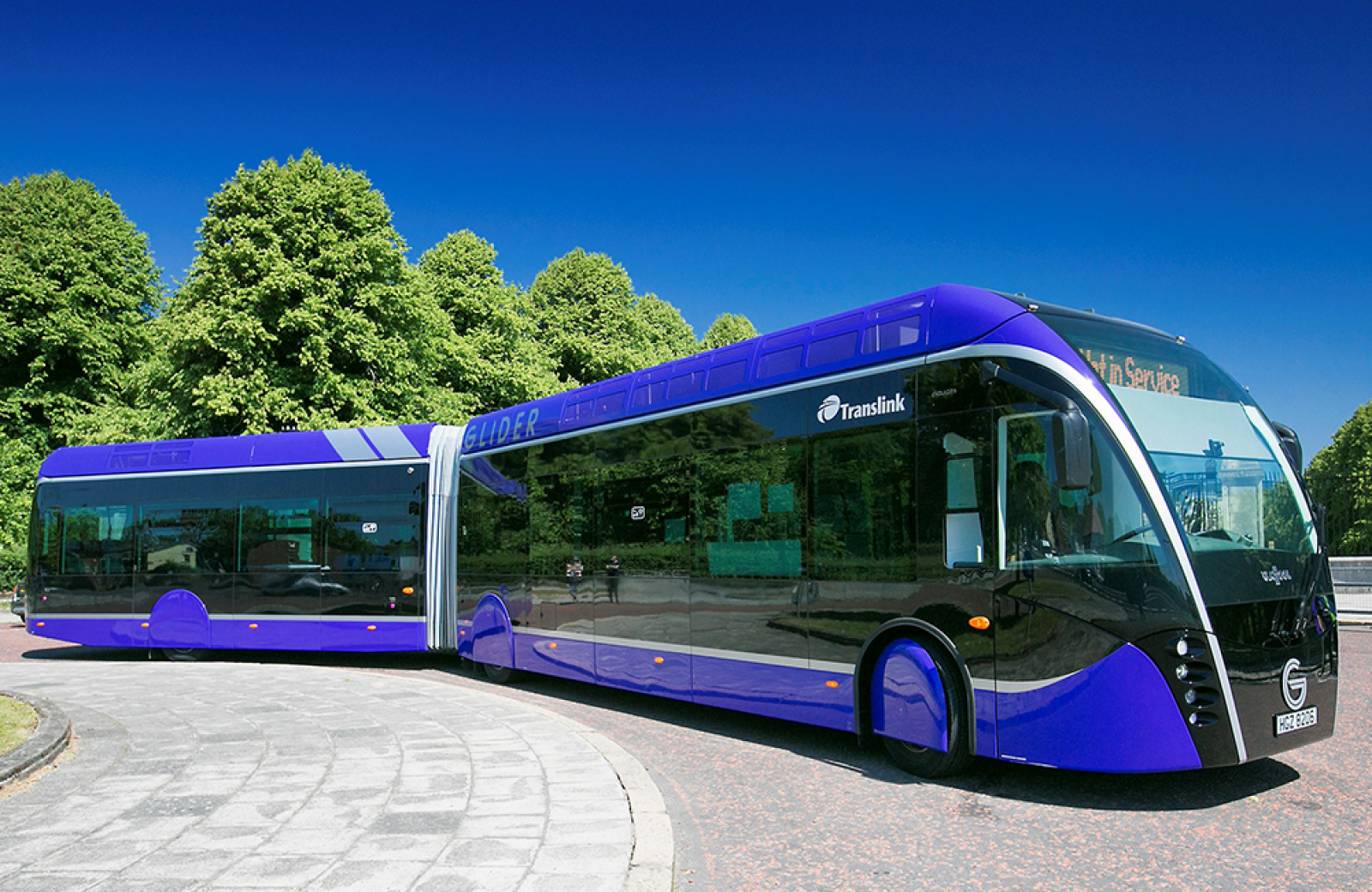 If asked what my preferred verb would be to describe how I would ideally like to travel across a city, 'glide' would almost certainly be my top choice. If I had my way, I would glide into work in the mornings, glide to meet friends in the evening, and then glide home at night. The word's emphasis on a smooth and continuous motion, one without effort (rather than something bumpy, arduous or stop-start), is surely how most people would aspire to move across our busy and often congested urban areas.
It's no coincidence then, that Belfast's iconic bus rapid transit (BRT) scheme is called Gilder. Now half a decade old, it's been a real transport success story – moving millions of passengers between the east and west of the city, and into the evolving Titanic Quarter, over a 24km route. Before the pandemic, the then new Glider was taking an additional 40,000 passengers a week compared to previous bus patronage figures along the route in 2017. Since the end of the pandemic, patronage has bounced back quickly and is again approaching those levels.
But it's not just clever marketing. A trip on Glider (which I was lucky to take when I visited Belfast with my colleague Jason last week) would confirm the credentials its name suggests – it's comfortable and swift - overtaking the slow-moving or stationary car traffic (a feature of Belfast's roads) when moving in its dedicated bus lanes. And it's quiet, utilising hybrid diesel/electric technology.
But what is - in my view - almost as important as the punctuality, frequency (arriving every 7-8 minutes), speed, ride quality and all the other necessary details a passenger would expect from BRT, is the appearance. Glider vehicles simply ooze class. The Cadbury purple and slim silver lines, the wheel covers, the logo (now that is clever marketing) – all suggest something more European in terms of quality, perhaps no surprise then that they were built by Belgian manufacturer Van Hool. For someone who is not (I repeat, not) a transport nerd, it really is hard not to get excited when seeing Glider in motion. Even the stops (sorry, halts) are a cut above – something more akin to a tram stop, complete with off-board ticketing, real-time journey displays and public art.
All these details signal that Translink, Northern Ireland's public transport operator (and associate member of UTG), takes public transport seriously and is giving residents of the city transport services they can be proud of. But Glider is far from a one trick pony for Translink, as Jason and I witnessed during the rest of our trip.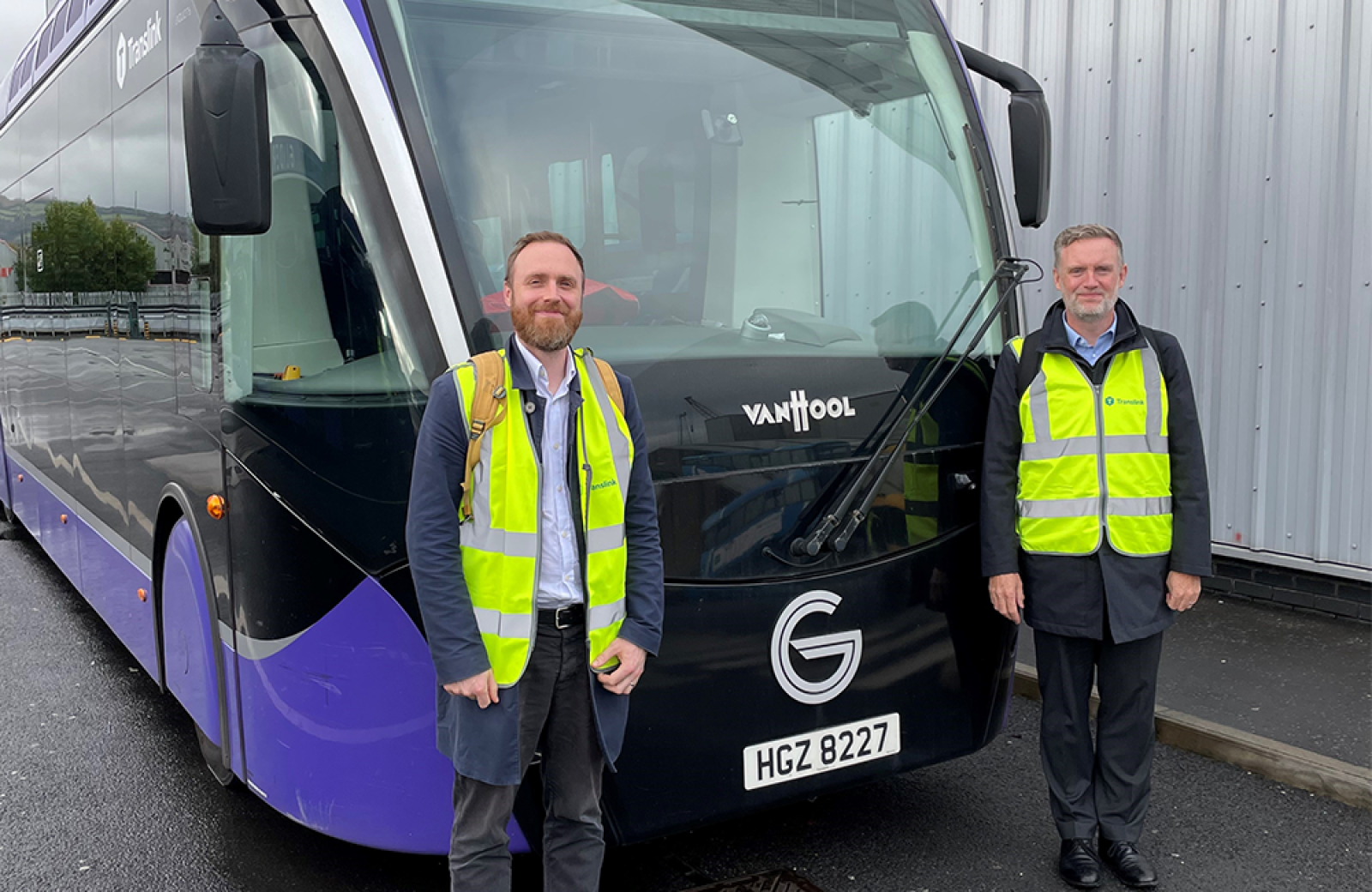 As an organising authority, Translink does more than just running transport services, it also does ticketing, scheduling and infrastructure. And nothing says transport infrastructure more than the new Belfast Grand Central Station project. This multi-million pound, multi-modal transport hub will be the first place many visitors to Belfast will step into once complete in 2025. Viewed from atop a special platform, the sheer scale is hugely impressive - 8 railway platforms and 26 bus stands (alongside cycling and taxi provision), catering for around 20 million passenger journeys each year. For the civil engineers out there, a staggering 1,400 piles were laid to support the main station superstructure!
The area around the station, the newly titled Weavers Cross (which takes its name from this part of Belfast's industrial linen past), will be an 8 hectare site of regeneration, with new residential and commercial space and high quality public realm. A defining feature of the project is its emphasis on social value, with a great deal of work by Translink and its contractor partners in bringing the local community into the project, via schools, community groups, businesses and charities – creating local employment, training and apprenticeship opportunities.
As an organisation, Translink is aware of its responsibilities on climate and has set its sights on being Net Zero by 2040 (something which is also integrated into the Belfast Grand Central Station, through BREEAM green building credentials and renewable energy). So, it was great to have the opportunity to visit Milewater Service Centre, where Translink maintains its fleet of battery-electric and hydrogen buses for Belfast. (Once its electric buses for Derry~Londonderry and electric minibuses for Coleraine are factored in, Translink operates the fourth largest fleet of zero emissions vehicles in the UK and Ireland.)
The Service Centre is a hive of activity. It's where charging for many of the 80 battery electric and fuelling for some of the 20 hydrogen buses takes place, as well as maintenance for much of Translink's bus and coach fleet (including Gliders) - from air conditioning servicing to major accident repairs. But it's also a place of innovation. One of the key takeaways for me was the scale of the challenge of running zero emission vehicles as part of the wider fleet. Not only do the vehicles themselves require constant outside-of-the-box thinking when it comes to fuelling and maintaining, but it's been just as important to bring people on the journey, properly training workers in respect of new technology (where technicians now spend just as much time on their laptops as they do underneath vehicles). I was genuinely impressed by the dedication of staff at the Service Centre in finding solutions to these complex challenges and their commitment to achieving the Net Zero goal. Many more challenges will undoubtedly emerge on the journey to a fully decarbonised fleet (including trains) by 2040.
We are hugely grateful to Robin Totten, Translink's Head of Strategic Network Design and Business Change, for showing us around Belfast on what was a truly inspiring visit. Northern Ireland is a place with many of its own unique challenges (including the political and spatial – such as its growing rural population), but it shares many common ones with city regions in Great Britain, especially around funding. I believe as a network of transport authorities, there is much that our other members can glean from Translink and the Northern Ireland experience. I really hope to be gliding back to Belfast soon to learn more.
James Kershaw is Media and Communications Manager at the Urban Transport Group