Journey into a locked-down world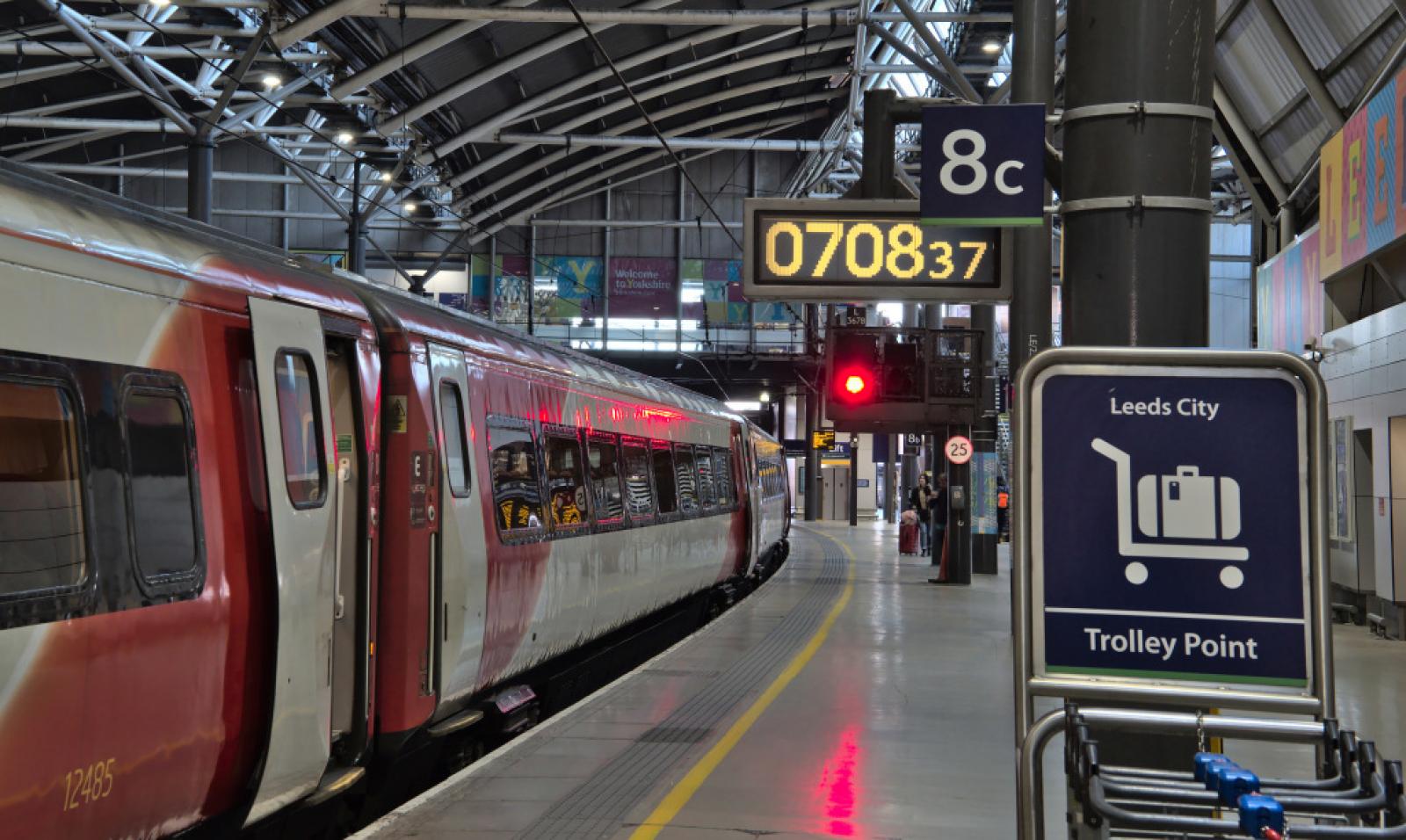 (Picture: Empty platforms at Leeds station at rush hour during the first national lockdown in March 2020)
Like many others, my daily bus commute came to an abrupt end in March 2020. In the months since, my only real life experience of public transport in a COVID world was a couple of open-top bus trips up and down Great Yarmouth seafront in the brief respite of August 2020.  
That changed last week when I made the trip down south for the funeral of my Grandma. With numbers of mourners restricted, and wanting to minimise the risks involved, I travelled alone, meaning a journey on a train for the first time in over a year.  
Whilst expecting Leeds Station to be quiet, it was still a shock to see it so devoid of people, with passengers outnumbered by staff and contractors in hi-vis jackets working on the upgrades to the station. Signs reminding people to stay at home and save lives added to the somewhat dystopian feel and the oddness of being out in the world. 
I was surprised by how nervous I felt – like I had forgotten how to 'do' train travel – clumsily presenting my QR code as I passed through the ticket barriers and scanning the waiting LNER train, searching for the correct carriage and temporarily forgetting which order the alphabet runs in.  
Finding my seat, the carriage appeared empty, but the occasional rustle of a newspaper told me I was not alone. The space for seat reservation cards in the backs of the seats was now used to remind passengers that reservations were essential and that they should sit in their allocated seat only, to ensure social distancing.  
Posters and audio announcements reminded passengers that face coverings were required at all times unless exempt. I guiltily removed mine to eat my lunch and drink my tea, trying to bolt everything down as quickly as possible, feeling embarrassed to be 'unmasked' and feeling for those who are exempt and routinely run the gauntlet of the public gaze and judgement.  
The journey progressed smoothly, and the cleaning regime was reassuringly visible. Cleaning staff dressed in black, looking like members of a SWAT team strode the carriages, spraying everything in sight. Switching onto a local Thameslink service, again the cleaning team were working hard to keep every surface as safe and sanitised as possible. Douglas Adams, author of Hitchhiker's Guide to the Galaxy was eerily accurate when he imagined the demise of a planet which decided to send its telephone sanitisers and other seemingly unimportant workers off on an Ark into space. Those left behind were subsequently wiped out by a disease contracted from a dirty telephone. Cleaners are heroes. 
Arriving safely at my destination, despite the sad reason for my journey, it was absolutely wonderful to see my family (however briefly) after so long apart. 
(Picture: A near empty carriage on Rebecca's journey)
The journey back to Leeds was less straightforward. I had somehow managed to book myself onto a Thameslink service that didn't exist, meaning I would miss my LNER connection and lose my all-important reservation. Stressful at the best of times, but the context of COVID added a new level of anxiety. Would I be allowed on a different train, what about my reservation?  
The member of staff at the customer service desk seemed harassed and off-hand. He was unable to secure me a reservation and, scrawling my permission to travel on a tear-off sheet, sent me on the next north-bound LNER service with no advice as to my onward journey or where I should change. The train manager seemed equally stretched making me wonder whether staff are being pushed to breaking point by the pressures of keeping themselves and others safe and moving in a pandemic.  
In contrast, the member of catering crew (the first person I encountered on boarding the train), was kind and compassionate as – seeking reassurance - I felt the need to explain to him why I was sitting in a seat for which I had no reservation and my worries as to where I should alight for the next stage of my journey. He sat down, listened carefully and messaged the train manager, even offering to arrange me a reservation in advance of the next leg of my trip. A little kindness and understanding goes a long way, especially in these anxious, edgy times. And he made a fantastic bacon roll. 
Finally, I arrived back in Leeds, walking through the city centre to catch the bus home for the final leg of the journey. The city centre looked tired and unloved. With shuttered shops and windows frozen in time, still dressed in their Christmas finery, it was far from the buzzing city that I know and love. 
My bus, in normal times, would be pretty full throughout the day. This Friday lunchtime, there were three people downstairs and about five upstairs. I know that buses are cleaner than they have ever been and that companies are working hard to keep them as safe as they possibly can be.  
What you can't account for is the unpredictability of us humans. It made for a somewhat worrying journey as one of my fellow passengers, talking away to himself, moved from seat to seat, taking his mask on and off as well as closing the windows that had been left open for the ventilation that is so important for reducing transmission. It highlighted to me the role that the bus plays, not just in transporting key workers during a pandemic, but also as the only travel option for some of the most vulnerable people in society, many of whom are likely to be isolated and cut off from their normal routines and support.  
My journey into the locked-down world was at times tense and nerve wracking. However, the things that matter are magnified but largely unchanged.  
Kind words, a friendly greeting, smiling eyes mean so much in a sea of masked faces.  
Seeing tangible evidence of enhanced cleaning regimes bolsters confidence and we should treasure the armies of staff that are responsible for delivering this. 
Clear information and good communication when a journey is disrupted will always do a lot to dispel anxiety and maintain goodwill. 
It all boils down to kindness and reassurance, both of which will be needed in spades as we begin to emerge, blinking into the light, from what we all hope will be the last lockdown. Happy trails everyone. 
Rebecca Fuller is Assistant Director at the Urban Transport Group