From tram drivers to bus planners and from cycling instructors to ferry captains, the staff of our member organisations keep the country's largest urban areas moving – day in and day out.
At the same time - as the locally accountable public sector transport authorities for the city regions, our members are planning and investing for the future. They are rolling out the benefits of modern tram and light rail systems to more places, putting in the infrastructure that makes travel by bike and on foot safer and more attractive, and providing bus services for communities that would otherwise miss out.
All of this with the aim of achieving a wider vision for the future of our towns and cities as places which are greener, more prosperous, happier, healthier and fairer.
Find out more about the work our people do to keep our towns and cities moving in this film.
Our members cover the UK's largest urban areas. Together, they:
serve over 20 million people (in England alone)

account for three quarters of all bus trips made (in England)

operate 7 of the UK's 9 light rail schemes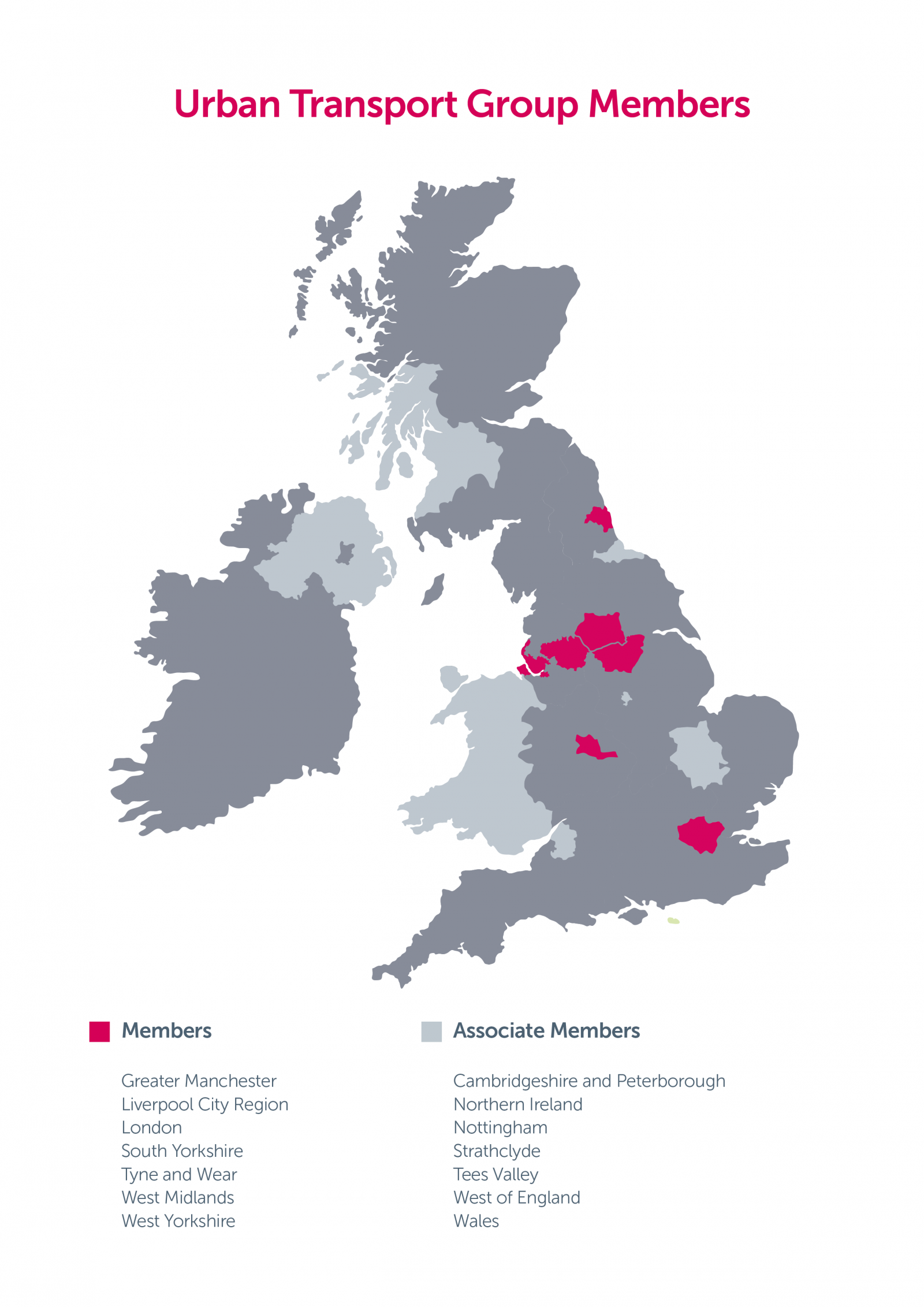 Decades ago, our members recognised the value of coming together to learn from each other, to make common cause over the case for public transport, and to save money through co-procurement.
This is the role that the Urban Transport Group still plays today but with a growing membership.
Our full members are now the transport authorities for Greater Manchester (TfGM), Liverpool City Region (Merseytravel), London (TfL), Tyne and Wear (Nexus), South Yorkshire (South Yorkshire Mayoral Combined Authority), West Midlands (TfWM) and West Yorkshire (West Yorkshire Combined Authority).
We also have a wider associate membership which brings together the transport authorities serving Cambridgeshire and Peterborough, Nottingham, Strathclyde, Tees Valley, Wales, West of England as well as Translink in Northern Ireland.
You can read more about each of our members here.
We work together in three ways:
We make the case for urban transport – in particular for the funding and powers our members need to plan and deliver transport networks that support inclusive and sustainable growth.

We provide thought leadership by making the connections between transport policy and the wider public policy goals of city regions.
We are the professional network for people who work in urban transport in the public sector, and save our members time and resources by accelerating the take up of best practice through sharing knowledge and expertise.  
Our strategy and policies are determined by a Board of seven Directors - one from each of our seven full members.
The Urban Transport Group's work is delivered by our dedicated team of staff based in Leeds.
We also facilitate a Professional Network of working groups for our members on a host of different topics and challenges (from bus strategy to organisational development and from health and safety to active travel).
One of the organisation's major strengths lies in its Professional Network of transport authorities. The network demonstrates that through collaboration, we can achieve far greater impact than we would otherwise do individually.
Tobyn Hughes
Managing Director, Transport North East
In uncertain times, with finite resources and in a climate crisis, the challenges that our urban areas face grow ever more complex and demanding. But through working together as the Urban Transport Group, we can help ensure that the wheels keep turning and wise choices are made on where investment is directed.